I am really loving drug store or high street products at the moment, and I thought I would do a post on my favourite ones here. I am definitely of the mindset that these can be just as good, if not better, than many high end products. The price, in a lot of cases, doesn't reflect the quality of the product and if it's expensive, it doesn't mean you're going to love it. Obviously I am not an expert, but these are the products that I use most from the drug store and really rate.
Enjoy!
Foundation – Bourjois Healthy Mix Serum Foundation
This is probably my most-used foundation as it is the one I would go to for every day use. I used this before I became even remotely interested in make up, as I thought it looked healthy for the skin and something that wouldn't feel like I'm actually wearing make up. It's very smooth, has a semi-matte finish, extremely blendable and makes your skin look so healthy and hydrated!
I tend to have normal/dry skin so I would stay well away from this if you have oily skin as it can come across quite shiny, so make sure you use powder with it! The shade range for Bourjois as well tends to be on the yellow side which is great for me, but obviously not for others. I currently use the shade 53 (Light Beige) as it is winter, but in the summer I tend to use 55 (Dark Beige).
The coverage is very light, but is easily buildable if you need it to be. I tend to just wear one pump's worth for that 'your skin but better' look, however if I'm having a particularly bad skin day I'll go for another layer! It gives such a natural finish and as it is infused with vitamins and minerals, I don't mind wearing it every day and don't feel like I need to let my skin breath after wearing it. I know it's bad, but when I wear this I don't worry about taking it off in the evenings – it really is that nice on the skin!
2. Concealer – Bourjois Radiance Reveal Concealer
This used to be the Collection Lasting Perfection concealer, but Bourjois's Radiance Reveal has slowly overtaken this. It's a very good dupe for NARS Creamy Concealer, but less than half the price! I really like the packaging, too.
You can see my full review of this by following this link.
3. Eyebrow Pencil – Soap and Glory Archery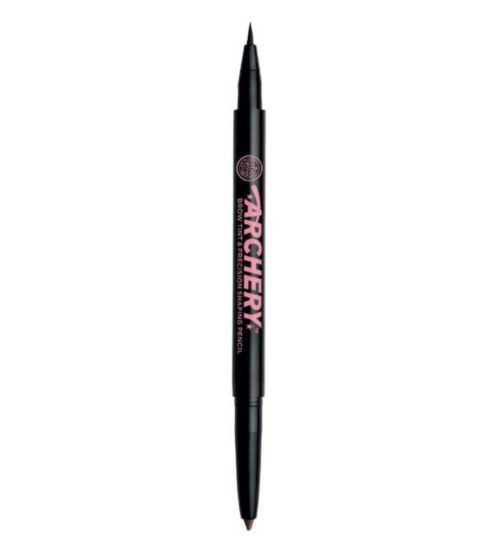 I use this most days rather than a high end product and am always happy with the results. It has a really nice and natural texture and the liquid end makes the eyebrows nice and tidy. Read some more detail on this in my Favourite Soap and Glory Products post here.
4. Liquid Eyeliner – Collection Extreme 24 Hour Felt Tip Liner
I don't tend to use drugstore eyeliner as I think they really don't last as well and you get what you pay for, kind of thing, but this one is actually quite good.
Yes the staying power is not as good as its high end counterparts (definitely NOT 24 hour), but for only £2.99 or something ridiculous, it does a great job. It has a very smooth finish, glides on nicely and very easy to use.
5. Lipstick – Bourjois Rouge Edition Lipstick
I tend to go for more natural and matte looking lips however I am really loving the Bourjois Rouge Edition lipsticks which are more hydrating and glossy. Wearing this lipstick can turn any look into something a bit more special and smarter.
My favourite shade for every day is 04 Rose Tweed which is a really subtle blushed pink, which I think is really adaptable to most palettes and gives a hint of colour without overdoing it.
6. Primer – L'Oreal Lumi Magique
This is often raved about by other bloggers and I couldn't agree more that it is a really great product. It makes such a silky smooth base for your foundation, plus gives dull skin an instant lift and radiance. It's hydrating, too, so really great for dry skin.
In terms of make up lasting longer, I don't think it is as good as it's high end counterparts, however it's by no means bad and does make your foundation look that much brighter and smoother.
7. Brush – Real Techniques Contour Brush
This is 100% my favourite drug store brush at the moment. I absolutely love pixiwoo & their videos, especially Nic I think she seems so lovely!
Their brushes are genuinely good though, and often use these more than anything high end. My favourite is the contour brush which I don't actually use for contouring surprisingly. I use this for foundation and I find it is really good for buffing and blending, as it gets into the hard to reach nooks, like around your nose and eyes. I always find my makeup looks seamless when I use this brush, and it's also very soft and light on the skin.
8. Blusher – NYX Baked Blush in Foreplay
This is such a lovely blush and very similar to Milani or Mac Mineralised Finish, etc. I'd say the colour is really lovely and more coral than pink, making it quite similar to NARS 'Deep Throat'.
It's not too pigmented but that's part of the reason why I like it, as it gives a subtle glow and only slight colour – making it great for every day 'no make up' looks.
9. Bronzer – Soap and Glory Solar Power
I love this bronzer and I pretty much use it most days. It's half bronzer, half highlighter and gives such a summery glowy look to the skin, brightening you up on a really dull day. Plus using this means you skip a step in your routine as there's not much need to highlight.
Check it out in my 'Favourite Soap and Glory Products' here! 
10. Powder – Rimmel Stay Matte Long Lasting Pressed Powder
I don't tend to use powder much as I like my skin to look very dewy rather than matte. However if I do use it, for a long day or if I am going on a night out, this is the one I tend to go for. It's very cheap, but really good. Does what it says on the tin and keeps your make up looking long-lasting and matte of course!
11. Eyeshadow – Maybelline 'The Blushed Nudes'
I really love this palette. I don't actually tend to wear eyeshadow as I don't feel it suits me on a day-to-day basis (plus I am not the best at applying it!) but I really like this one and the colours that are with it. I prefer nudes when it comes to eyeshadow and I would never wear anything bright, so this one is perfect.
It doesn't have much fallout at all, which is great considering that it is only £9.99 – plus you get 12 different colours! I would really rate this as a dupe for Urban Decay Naked 3 Palette. The colours aren't as creamy as the Naked 3, but if you would rather a drugstore alternative then this is a really great choice.
12. Mascara – Maybelline Lash Sensational Waterproof
As I have said before and have done many other times, NOTHING beats this mascara. It is seriously the best! For someone who has really straight lashes with just no curl at all, this mascara has completely transformed my eyelashes.
I would 100% recommend this to anyone with straight lashes and seriously am yet to find something better, even a high end luxury product. The only one that comes close would be Benefit's They're Real or Roller Lash.
See this in my February Favourites here!
—
Thank you again for reading this post and visiting my blog. If you would like me to put links up to these products then I will, but I'm pretty sure you can buy all these brands from Boots or Superdrug in the UK. What are your favourite high street or drugstore products? Anything else you think I should try?
I will try and put up my favourite high end / luxury products soon if you would like, please let me know if you'd like this or any future posts or products you would like me to review.