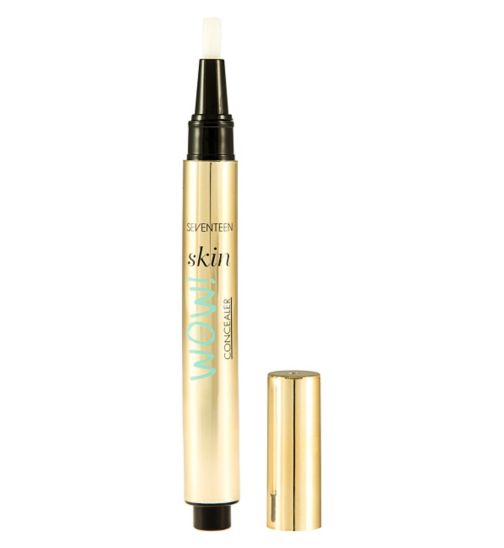 Another concealer review! I do love 'em. This time is from a drugstore brand from the UK called Seventeen (17? They used to brand it like that but maybe not anymore) and looks suspiciously like YSL's Touche Eclat, is only £4.99 and is also marketed as a highlighter. Amazing!

When I purchased this, it wasn't clear what shade it was so I assumed there was just one universal shade. However, I discovered when I tried the product that it was a 'medium' shade. I panicked as although a lot of the time I am verging on a medium skin tone, I definitely do not want my concealers or highlighters to be that colour! BUT I was pleasantly surprised as the medium was very light indeed. But also pink. Very pink.
The packaging is great – looks super expensive and just like YSL's Touche Eclat. It has a really convenient click-release pen and a brush applicator, making it very easy to use for under the eyes. Personally I use Touche Eclat for under the eyes, so I will be reviewing this product as an under-eye concealer rather than a highlighter, for all intents and purposes!
What I love about this is that it is actually more of a concealer than the YSL version as it has a much creamier texture and quite good coverage. It is less of a light reflector, which I think would make it a bit of a useless highlighter, but as an under eye concealer it does do a good job of banishing the dark circles and bringing a little bit of brightness to the face.
(Excuse the 12 year old boy with a 'tache look going on here… very bad lighting!)

I think you can tell the quality of the concealer isn't as good as the YSL version as I found it didn't really last as long, but it's so much cheaper at £4.99 and I think I would rate it not too far behind.
Overall, I really like this product and the price tag even better. I would definitely recommend it for those who are eager to try the Touche Eclat but don't want to spend the money as it really isn't far off, has better coverage and still looks the part! Let me know what you think if you've had a try of this product, and if you have any other concealers you would recommend!