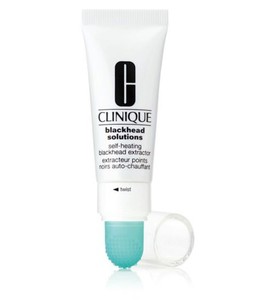 My boyfriend said to me recently that he never noticed that I have bumps on my skin. "What bumps?" I screeched, expecting to have had some kind of allergic reaction bubbling up on my face. But no, he was referring to my filled pores over my nose and the top of my cheeks, otherwise known as those pesky blackheads.
Immediately I became paranoid about my 'lumpy skin' (thanks Henry) and went to Boots to try and find just about anything to get rid of them and make my skin look Jennifer Lawrence-smooth.
One of the first things I saw was on the 'New Product' section of the Clinique counter was this 'Blackhead extractor' and my eyes lit up. I asked the sales assistant what she thought of it first and foremost and she replied 'haven't tried it', which automatically rang alarm bells. I still bought it anyway and couldn't wait that night to be rid of my lumpy face.
So, did it actually work?
Firstly, it claims that is has a unique warming solution to open up the pores in order to expel all the filth that builds up inside of your pores. Simple, I thought, I have tried a few products that have done this in the past such as Soap and Glory's 'No Clogs Allowed' (which I love) and various other cleansing masks. Except it didn't really feel like it heated up at all, which was really strange. Maybe it did, but really not enough for 15-30 seconds in order to clean my pores out. It was lukewarm at best.
It also claims that the freaky little tool which looks like a sea urchin will then scoop the gunk that it is in your pores out, having the same effect as if you had squeezed them yourself. I just want to say that this was the part I was looking forward to the most; having visions of black gunk being literally scooped out seemed so satisfying. WRONG. My skin looked exactly the same, nothing was scooped out and I still have the damn blackheads.
I will go as far, just to *try* and justify spending £22 on this that my skin around the pores did feel fresher and smoother, but this is probably due to cleansing my skin beforehand and to some extent exfoliating it with the urchin thing.
However if you are thinking of buying this and expecting your blackheads to go away (I mean, why else would you buy this product?!) then DON'T. 
I love Clinique, I ADORE their Dramatically Different Moisturising Gel – it's my go-to summer moisturiser – but this is just pointless and potentially one of the biggest waste of money I have ever spent on a skincare product and at £22 (have I mentioned the price at all?!), this is pretty devastating.
In the words of Wayne Goss's perfectly summed up YouTube review of this product: EPIC FAIL. 
PS. I was also given a sample of the Clinique Blackhead Removing Cleanser; review coming soon!